Each week, Sam Sanders interviews people in the culture who deserve your attention. Plus weekly wraps of the news with other journalists. Join Sam as he makes sense of the world through conversation.
Bernard "Billy" Brown hugs a tree in Haddington Woods near Cobbs Creek. Brown is the author of a new guide book, "Exploring Philly Nature." (Emma Lee/WHYY)
Philadelphia might be a concrete jungle full of tall skyscrapers and rumbling cars, but the city is also home to hundreds of species of birds and plants, even snakes and slime (yes, slime).
Urban wildlife exists all around us, and Bernard "Billy" Brown is on a mission to get people to enjoy it with his new book, "Exploring Philly Nature: A Guide for All Four Seasons," which was published in July by Temple University Press.
"We often don't consider the city a space for nature," said Brown. "There's so many ways that we can get connected with plants and animals and other living things, wherever you happen to be in the city … even if that's on your stoop."
"There's always something you can be observing or connecting with," he said.
Seeking advice? The 'Old Coots and Company' share free wisdom down the shore
A group of senior citizens doles out advice every Friday morning at the Ventnor Farmer's Market. "It may not be the best advice, but it's free."
1 week ago
Brown grew up fascinated with reptiles and amphibians and, as he got older, became more interested in how animals lived out in the wild. That curiosity transformed into a career.
For more than a decade, Brown has explored nature in and around Philadelphia. While he doesn't consider himself an expert, the West Philadelphia resident has tons of experience and knowledge when it comes to the city's urban wildlife.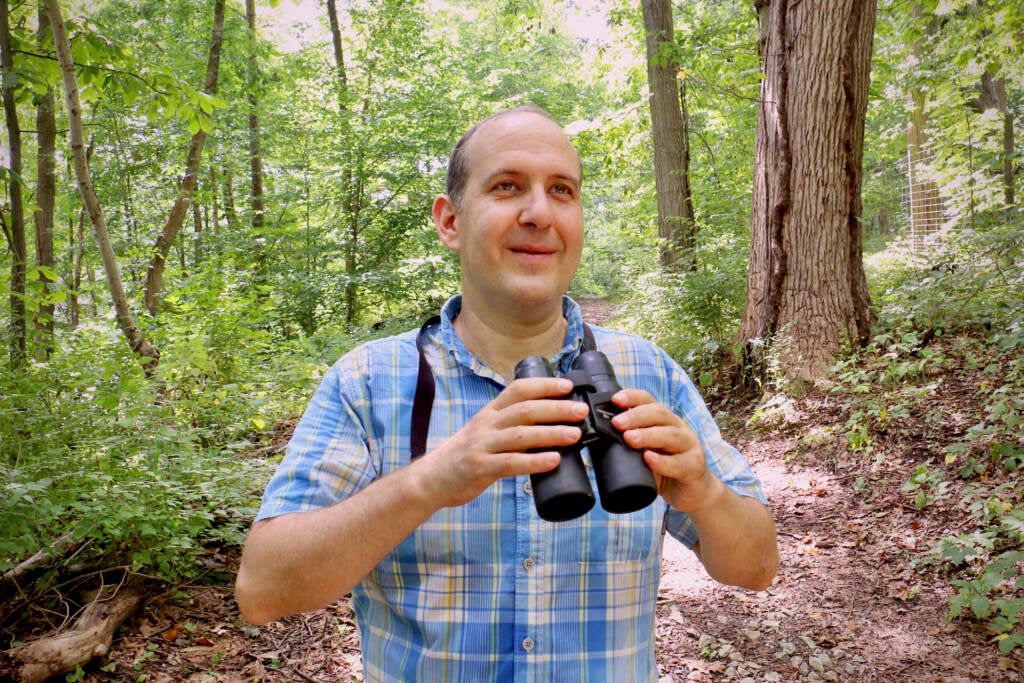 He's a nature writer for "Grid Magazine" and has hosted videos on the magazine's YouTube channel, where he's covered everything from how to get started birding to how to find snakes in University City.
Brown leads walks across the region that focus on animals and plants, co-founded PhillyNature.org to promote getting involved with nature, and is a part of the organizing committee of the annual City Nature Challenge.
Clearly, Brown has an affinity for nature.
He's sharing that with people in his new book, with the hope that it will get others as excited about bugs and bats as he is.
The goal is "to get people in the city connected with the nature where they are," said the writer. His book illustrates ways to engage with nature year-round, with different opportunities available each season.
The best location to start is closer than you might think.
"Your street is the place to start," said Brown, who has familiarized himself with the kestrels that chirp outside his house. "Don't let having to go somewhere get in the way."
From your block — even your window — you can look at birds flying across the sky, nesting in trees, or lounging atop rowhouses. You can observe squirrels running around, weeds growing in between sidewalk cracks, moths buzzing around a streetlight.
If you want to level up, Brown suggests visiting a local park or garden, though he recognizes that not every neighborhood has equal access to those spaces. Still, even the smallest of green spaces has something to offer, he says.
"I've got 40-something different species of birds I've seen in Malcolm X Park," said Brown. To explore further, Brown recommends going to John Heinz National Wildlife Refuge, the Discovery Center in Strawberry Mansion, or the Cobbs Creek Community Environmental Education Center. Each has plenty of resources, plus programs on everything from interacting with turtle species to stargazing and canoeing.
Cute, therapeutic, sustainable Philly goats coming to a neighborhood near you
A traveling herd of caprine entertainers is putting on play performances, parades and bringing education and joy to residents of all ages.
2 weeks ago
In addition to guiding readers on how to engage with nature, Brown's new book serves as a reminder that we share our city with non-human creatures, and that comes with responsibility.
"Part of making the city more welcoming for our wild neighbors is understanding that it is already a home for our wild neighbors," said Brown.
If people are interested in making Philadelphia slightly more hospitable, he has a few simple recommendations.
Try to put your trash in a container with a lid so that critters don't get inside. Grow native plants to the extent that you have a garden to help with the diversity of bugs and birds. Make your windows visible to birds, so they don't crash into them. And lastly (a recommendation that Brown admits is controversial to some), keep your cats inside, or walk them with a leash.
"As long as you're supervising those cats outside, you're letting a bunch more birds and other critters live," said the nature writer.
No matter how or where you do it, Brown encourages residents to build a relationship with the nature around them.
"Learning about nature, it does enhance my sense of wonder of the world and also that of my family," said Brown. "There's something really magical that happens when you learn more about something that had been in the background before."
That magical pursuit is one Brown intends to continue.
Subscribe to PlanPhilly
Our weekly newsletter delivers original reporting on the people, places and things that make Philly.
Cute, therapeutic, sustainable Philly goats coming to a neighborhood near you
A traveling herd of caprine entertainers is putting on play performances, parades and bringing education and joy to residents of all ages.
2 weeks ago
The heat is on: Philadelphians are flocking to city pools this summer
Philly has opened 50 public pools across the city this summer, with another 20 still closed. But neighbors are loving any splash they can get.
3 weeks ago
Meet the Old City saxophonist bringing music and 'good vibrations' to Market Street
David Puryear is the iconic saxophonist who plays on the corner of 4th and Market in Old City, Philadelphia. He brings music and joy to the community.
2 months ago
Central Bucks passes policy censoring class materials with 'sexualized content'
Naloxone giveaway part of Trenton baseball team's Addiction Awareness Night
Coming to Philly this fall: Bike lane patrol officers
Want a digest of WHYY's programs, events & stories? Sign up for our weekly newsletter.
Together we can reach 100% of WHYY's fiscal year goal
WHYY provides trustworthy, fact-based, local news and information and world-class entertainment to everyone in our community.
WHYY offers a voice to those not heard, a platform to share everyone's stories, a foundation to empower early and lifelong learners and a trusted space for unbiased news. Learn more about Social Responsibility at WHYY. It's how we live.
215.351.1200
talkback@whyy.org
302.516.7506
talkback@whyy.org
© WHYY MMXXII
WHYY is partnered with