The Port of Liberty Board has newly elected Directors for 4-year terms.
Dennis Beasley has been reelected, and Julie Hebert is a new Board member.
The two Board members are joined by Denise Barkis, a long-time member, to complete the Board.
Dennis Beasley also serves on the City of Liberty City Council and as President of the LCDC or Liberty Community Development Corporation. Julie Hebert is a local insurance executive and also a member of the LCDC.
Frank Jordan, Port Operations Director, announced the Liberty Port is now updating properties with a 6,000 sq ft warehouse to be available for leasing in April 2022 and new activities being activated for the area. Frank Jordan also serves as a Director on the Chambers-Liberty County Navigation District (CLCND), a co-owner of the Liberty Port with the City of Liberty.
The Liberty Port area has a boat ramp with plans to add tables for family enjoyment in the area. Other new planned activities involve both kayaking and bird watching. Together with the TRA, the Liberty Port is seeking navigation approvals from a revised Corp of Engineers master plan for the Trinity River.
At present, the Liberty Port has no usage fees for the 180-acre Port area and collects no taxes for operations and development. All past due receivables have now been collected by management, and current audited statements reflect the positive financial condition of the Liberty Port Operations.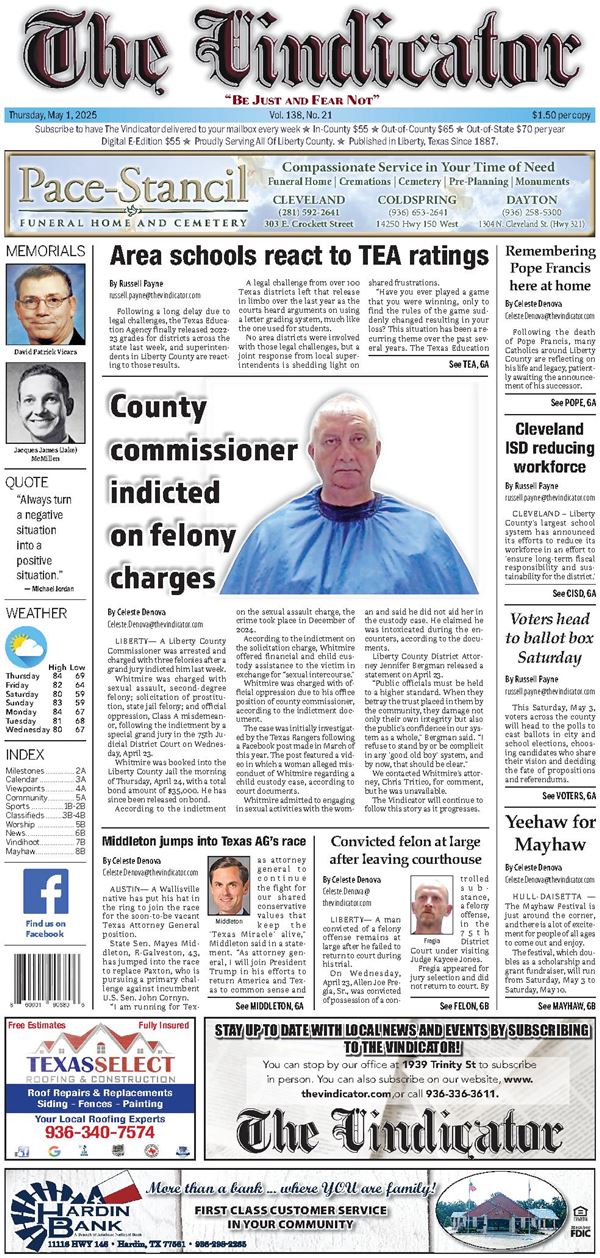 Click here to read Liberty Vindicator
The Vindicator
1939 Trinity
Liberty, Texas 77575
Phone: 936-336-3611
Fax: 936-336-3345
The Vindicator Copyright © 2022